"A figure dressed in white, walks along the white line in the middle of the highway. He becomes visible only when sporadically lit by the headlights of on-coming cars." From a Jack Goldstein performance, 1971.
I barely remember a time when I didn't know who Yoko Ono was. I specifically discovered Laurie Anderson on the night of
March 16, 1984
. Aside from these two legends, Chris Burden was one of my earliest performance art crushes.
In college I heard about
Shoot
and
Deadman
. Rumors reached me about
Trans-Fixed
, in which he was "crucified" to a Volkswagen. For years, every time I would see a tarp or a box in the middle of the road, I would say, "There goes Chris Burden." I don't say it out loud any more, but I still think it.
After finishing my undergraduate studies and beginning to study art and art history on my own, I specifically sought out a graduate program where I could study performance art.
Earlier this year I visited Los Angeles, and I came upon his
Urban Light
. I don't think I was ready to receive its gifts. And when The Modern announced their exhibition
Disappearing—California, c. 1970: Bas Jan Ader, Chris Burden, Jack Goldstein
, I have to admit that I wasn't all that interested. But I went, and it turned out to be a great exhibit. I've been obsessively reading about Burden since.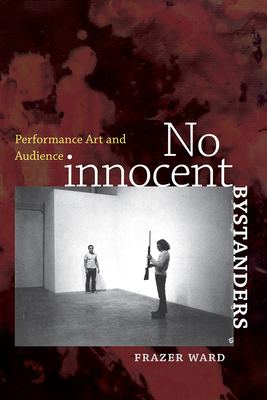 A text mentioned at The Modern was Frazer Ward's
No Innocent Bystanders: Performance Art and Audience
. He writes about how Burden's work negotiates how the private and personal interpenetrates the public and social. We carry our interiorities and particularities "into" and throughout the field of homogenized sameness and performed versions of publicness.
I wrote something of my own in response to Ward's book and Burden's work in this exhibit that seeks to make legible the artist even as he disappears and is gone forever:
The Subject of Last Resort


Burden's work traces the slippages of shaky ground beneath and among public-audience-community, especially as such slippages necessarily play with a contested field activated by artistic intention on display for any viewer-cum-participant, and of the radical dispersal of subjectivity, that is, a subject deterritorialized across, shot through, and riddled by alterities.
The audience is pro-voked: stimulated, incited, challenged while also called for(th) upon an ever-shifting ground of being. And this pro-vocation reactivates the community participant as by-stander and the site specificity by which one might stand. Such work reimagines the presence of an artist through the provocation of an already late audience comprising those who come to view the remains of what remains by the sheer presence of the artist's name on the wall. California qua literal no-man's land: a marked site of disappearance rendered unmappable and ultimately untraceable. A place, a space, left to operate solely as potentiality.
I think I may need to see this exhibit again before it closes.
Chris Burden's The Reason for the Neutron Bomb, 1979, 50,000 nickels, 50,000 matchsticks, and signage